3 min read
The monetary policy meeting of the Federal Reserve of the United States of America produced yet another rise in the cost of money, reaching 2.25% after a quarter-point adjustment. The news was widely discounted by the market, which, in fact, first reacted by selling the dollar (USD), following the typical pattern "buy the rumor, sell the news". And in fact the single currency (EUR) had almost broken down 1.18, and then folded. Since then, however, the greenback has continued to strengthen against all other major currencies and the cross against the euro has fallen below 1.17.
The reasons why this happened are different. First of all, Powell's tone seemed less accommodating in terms of monetary policy, and the central institute again revised growth estimates for the world's first economy for both 2018 and 2019. Respectively to 3.1 % from the previous 2.8% and 2.5% from 2.4%.
Inflation is seen close to 2%, in line with the mandate. The path on possible future adjustments, the so-called "dot plot", has also been revised upwards. Now the members of the Fed board expect a further rise before the end of the year with almost absolute certainty, having passed this estimate from 12 members to 16.
This further increase will take place next December. The last reason is due, finally, to the abandonment of the term "accommodating" in the official statement released after the board meeting, which had always been present since the time of the great financial crisis and the Quantitative Easing.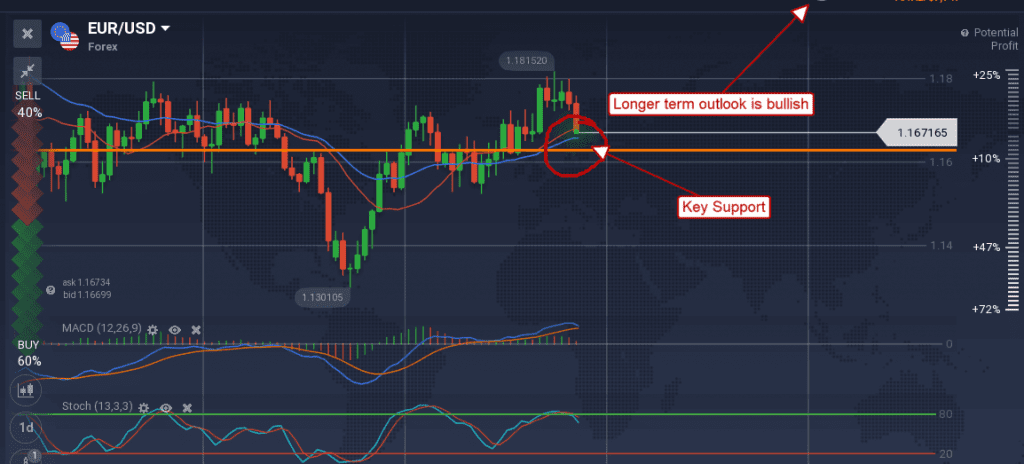 As for the euro, there were both positive and negative news, which on the whole did not allow it to keep pace with the greenback. On the plus side, there is certainly a further rise in inflation in Germany, which has risen to 2.3% annually from 2% in September due to energy prices and services. Data on M3 monetary aggregates were negative, down from 4% to 3.5%, which indicate a decrease in the circulating money supply.
Trade here
General Risk Notice
The financial services provided by this website carry a high level of risk and can lead to the loss of all your funds. You should never invest money that you can not afford to lose
---

Source: IQOption blog 2018-09-27 17:25:26